WHAT SHOULD TREKKER CARRY ON THEIR BACK?
Today, we are going to talk about Trekker's indispensable companion – a backpack used for trekking.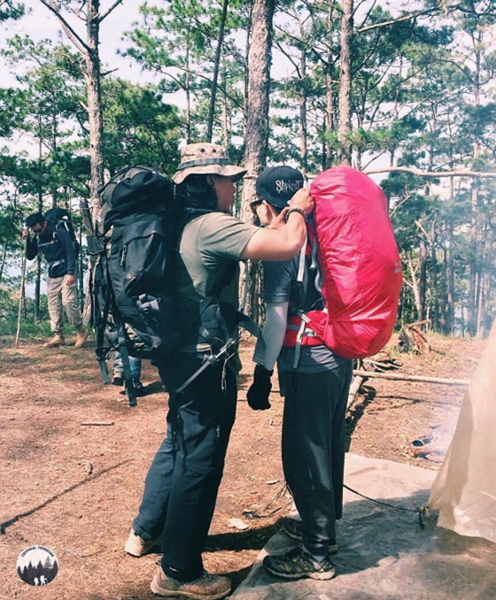 Apparently, it is not easy to choose a backpack which perfectly suits us. Considering such brands as Osprey, JW, Naturehike, 5.11, Quechua, Direct action, Karrimor, Helikon Matilda ranging from 55L+ to 75L+, mostly backpacks are divided into 2 categories: specialized and tactical which is designed for strategically military use. Particularly, the specialized backpack has small categories as well: mountain climbing, and trekking/hiking/backpacking.
A. Distinguishing
The easiest to use is the climbing one with not many ropes. You also can put your items in the top-down way. Furthermore, its hip belt is medium size with the back part made of light materials.
For hike/trek one, having some outside hooks is its feature. Also, it looks cumbersome with all kinds of clasps, and rough back. Its frame is made of a large heavy metal bar.
The backpacking kind is much bigger. Because it looks like you are carrying a house on your back meaning that this kind has a volume up to one hundred liters. Other than that, backpacking also has a handle which is visible at the first sight. This handle is suitably used for carrying in flight, train, and bus.
Some people misunderstand the function of trek and backpacking kinds. Using backpacking when you go climbing is impossible due to its weight. Likewise, using backpacking for trekking is also considered a mistake, but not a serious one. However, you will have to seemingly carry a dumbbell alongside if doing so. In case, you require a heavy trekking bag, backpacking is not a bad idea.
B. Basic analysis
When you climb, everything should be light. Because no one would help if accidents happened along the way. Moreover, it requires one of your hands to get things while climbing so that your stuff should be also light. Either ropes or other climbing tools are hung outside so as to it could be accessible by using one hand. Other than that, we will have to be flexible in the harsh terrain as it is being hovered. But, it is rare to have someone who likes to wear a bag when climbing as well.
Therefore, the top-down way is inevitable. Additionally, top-down here means there is only one way of putting stuff which is from the top to the bottom of your bag, without a hip belt as well as a quick pocket.
Hiker and trekker might feel more chill-out, and thus they tend to bring more- heavy bags. Mostly, tools are hung outside the bag. Personal clothes are not that much. They are mainly divided into some groups. They are fire, water, medicine, cooking, tents – sleeping bags, light shoes customized for stream trekking, back-up, etc., to name a few. Inside stuff is mostly less used items and vice versa hung-outside stuff are more urgent ones. Having two water resist zippers on both sides is a distinctive feature of this kind.
C. For Ad, until now I have been using one large-size tactical backpack.
Most importantly, this bag is suitable for use in tropical forest terrain. However, its top pocket is not as high as your neck. It is one weakness of all European - style backpacks. You can understand that after you get into either a bush or a bamboo forest.
Nevertheless, there is also one more weakness: heavyweight (almost 5 kilograms). Then again, we need to go back to 3 fundamental principles of Tropical Trekking:
1. Knowledge
2. Training
3. Equipment
Acquiring the first and the second, the third would become easier. We hope that you could find your best companion.
Before finishing, we shall together take a look at some designed backpack for Trekker.